11 best hotels in Nakhonratchasima
Our top picks
Lowest price first
Nearest to
Best reviewed
Fast facts about Nakhonratchasima, Thailand
| | |
| --- | --- |
| Accommodations | 594 properties |
| Popular hotel | B2 Korat Boutique and Budget Hotel |
| Popular area | Nakhon Ratchasima City Center |
| Nightly rates from | $8 |
| Airport | Nakhonratchasima Airport |
4-star hotels in Nakhonratchasima
---
This Hotel is very acceptable. The staff are friendly and speak adequate English. The rooms are well presented though very similar in design and style as many Hotels in the price range. It is a shame that information in the room is lacking in everything except a detailed explanation of every possible item in the room and how much it will cost you if damaged or missing ...
---
Last minute booking and very lucky to have chosen this hotel. Staff are professional, helpful and make your stay a happy experience. Rooms are good, clean and have the addition of a kitchenette which could be useful for a family. Breakfast is provided and is satisfactory it can get very busy before 0830 with the business men needing to eat and go earlier. Best rest...
---
the purpose of my trip was to attend a running event. I booked this hotel as it was nearby the venue. The services provided were outstanding - the staff were friendly and helpful, transportation was provided for all runners to and from the hotel and breakfast hours was also extended to accommodate for us afterwards. Overall one of the best hotels I've been to and highl...
---
The nearby Dusit Princess was full, but found this hotel for a good price and booked. Good choice. Adjacent to new shopping complex with plenty of restaurants. Hotel is nice design, industrial but with plenty of fresh air. Large modern rooms. A few small issues but nothing serious and staff were very helpful. Breakfast was OK, small choice but not many guests stay...
---
I would recommend staying in this hotel only if you are looking for the best customer service in ALL of Asia. I could leave countless examples of my amazing experiences at this establishment, but no one wants to read an essay, so I will simply say Sineenat (Khun Up), the manager, will make your stay legendary. If I every have a reason to stay in this area again I WIL...
---
Good location, great staff. Comfortable and inexpensive boutique hotel. I've stayed there 5 different times, from a few days to a week and a half. Every time I think of trying somewhere else, I search, search, search, and then pick Urban Bamboo again. Book early to get best room selection (some rooms smaller than others, some have refrigerators, some don't). Also,...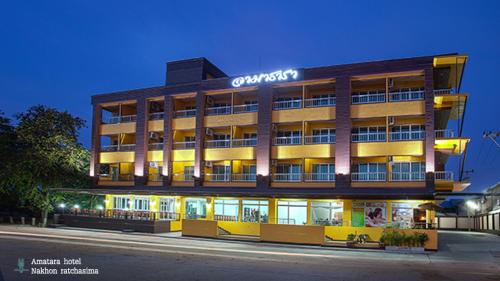 ---
This is my favourite hotel in Phimai for a number of reasons .Firstly the location on the edge of town . A new basic value for money hotel , friendly management and staff . Spacious clean rooms and cheap Thai food available. A short stroll to the historical park . Secure car parking . This is without doubt the best hotel for the money in the area .
---
As a regular user of this hotel (the best in the area) I can see that improvements are made constantly. This time they replaced the internet system and it is much improved!!! Also they are building an new area for the family bungalow's and as I understand well this will be ready in September. For me only one thing should be done to be, (for me), a 5 star hotel. please ...
---
No, you don't but overall the Asianaa nice place to stay. Its a little tucked away but not really a problem. If I'm being picky - I didn't like the 'trendy' window from the bathroom to the bedroom which means you have to pull the curtains if there are other people staying with you. I would also prefer a wardrobe rather than a couple of coat hangers attached to the wal...
---
5-star hotels in Nakhonratchasima
---
I had a business trip to Nakhonratchasima for 4 days so I had been staying at Dusit Princess Korat Hotel for all 3 nights. During my stay at the hotel, though the hotel decoration might not be at the best but it was very comforting and relaxing for the stay over. All the staffs were very kind and supportive with smiles. Moreover, there're many selections of breakfast l...
---
While this is a nice hotel to spend a night or two, it has no wow factor and isn't really of 5-star quality. Our room was spacious and very clean, however, and the hotel's location is great if you're staying in Nakhonratchasima. Moreover, the hotel is good value for money.
---
One of the best memorable trip for my family. We have 5 adults and reserved three Winter room. The room is big and nice design. Bed is huge and comfy which can fit for 4-5 person. A lot of window in the room that you can enjoy the natural view. Nice bathroom with the big bath tub. We stay here for golf course which is the great experience, nice golf course with fresh a...
---
Traveler impressions of Nakhonratchasima
Ancient Khmer ruins are an interesting hour by bus. Uncrowded. Nakhonratchasima is busy urban center
Great place for a stop over for a night or two. The city has long glory history and religious center for local nationals and foreign visitors to learn.
Be careful of traffic at the weekend,it can easily take you two hours to park in the shopping mall,we ended up parking in tesco and catching a taxi across to the mall and even this took time.
Only stayed there while visiting its Honda BigWing dealership, which was not able to to help. Didn't stay long enough to form an impression.
This is one of the larger cities in Thailand and is bursting at the seams in growth. This city will become one of the feature mainstays of the country.
Well-developed city w/lots of shopping center and eating places but still offers taste & atmosphere of old-days' Thai life; people were also very friendly !!
Not much to say really. If you have specific reason to visit, fine. Otherwise, stay in the Koh Yai district of the province.
The city is nothing special and very difficult transportation.Just good for stop over if tired from a long trip.
---
Nakhonratchasima's best hotels with breakfast
---
Frequently asked questions
What's the average price of a hotel in Nakhonratchasima?
The typical price for a 3-star property in Nakhonratchasima is USD 20. The typical price for a 4-star property in Nakhonratchasima is USD 33. The typical price for a 5-star resort in Nakhonratchasima is USD 67.
What are the best properties in Nakhonratchasima nearby Phimai Historical Park?
Verified travelers to Nakhonratchasima who stayed next to Phimai Historical Park have given exceptional reviews to Benya Guest House, Moon River Resort Phimai and Rabbit Hotel Phimai.
What are the best accommodations in Nakhonratchasima for families?
Places to stay in Nakhonratchasima that are widely ranked by families include B2 Korat Premier Hotel, B2 Korat Boutique and Budget Hotel and Centre Point Hotel Terminal21 Korat (SHA Extra Plus).
What places to stay located in Nakhonratchasima are exceptionally rated with respect to facilities?
Accommodationsaround Nakhonratchasima that is highly rated for amenities include Rang Robin Farmstay with swimming pool, Baan Yoo Yen Room for rent and The S อพาร์ทเม้นท์.
What places to stay located in Nakhonratchasima are exceptionally rated with respect to room comfort and quality?
Propertiesfound in Nakhonratchasima that is well rated with regards to room comfort and quality include The Change All Suites, Korat Buri Green Hotel and Baansakulpetch.
What are the most appropriate accommodations found in Nakhonratchasima which has complimentary parking?
Hotels with free parking around Nakhonratchasima that are exceptionally rated include Chicha house and แม่ให้ โฮมสเตย์.
What are the top properties located in Nakhonratchasima with restaurants?
Accommodations that have restaurants located Nakhonratchasima that are well rated include แม่ให้ โฮมสเตย์, Centara Korat and Centara Korat.
What's the best destination for sightseeing in Nakhonratchasima?
A top neighborhood with a variety of tourist attractions in Nakhonratchasima is Nakhon Ratchasima City Center.
What are some approaching holidays in Nakhonratchasima?
Holidays that are coming up in city_name consist of Public Holiday on 12/30/2022, New Year's Eve on 12/31/2022, and New Year's Day on 1/1/2023.
How long should I plan my stay in Nakhonratchasima?
In the past 3 months, vacationers stayed in Nakhonratchasima for 1 nights on average. The right duration for your trip will depend on what you'd be interested to see and do while there.
Are international travelers allowed into Nakhonratchasima?
Foreign tourists are allowed into Nakhonratchasima, according to our most updated information. Due to evolving restrictions, we suggest you visit here for additional information.
Is quarantine expected for fully vaccinated visitors to enter Nakhonratchasima?
Quarantine is not required for fully vaccinated travelers to enter Nakhonratchasima from outside the country. For up-to-date and detailed information on travel restrictons, please take a look at the official websites of the travel authority or government of the country you wish to travel to, or go to here.
Explore more travel vacation rentals
More about Nakhonratchasima
Nakhonratchasima is a perennial destination for nature and outdoor travel. Travelers from across the world travel to Nakhonratchasima to try anything this area can offer, like the finest resort hotels in Nakhonratchasima, hotels near lakes in Nakhonratchasima, and hotels with mountain views in Nakhonratchasima. Guests take full opportunity to experience the countless golf resorts and spas in Nakhonratchasima, Nakhonratchasima center aquarium hotels, Nakhonratchasima downtown accommodation, golf view hotels in Nakhonratchasima, and high-rise hotels with views in Nakhonratchasima next to excellent nature areas. Cuisine that can be found with the restaurants and bars in Nakhonratchasima comprises of options for all tastes. Favored nature areas in Nakhonratchasima include The Lam Takhong River, Nakhonratchasima Zoo, and Centennial Park, which in totality give a great number of wildlife and camping experiences and nature-based night-time activities. Room choices in Nakhonratchasima range between low-priced capsules in Nakhonratchasima to expensive 5-star luxury hotel zoos in Nakhonratchasima. You can also and many more for vacationers of all preferences and budgets. Don't forget-- single-unit trip rentals in Nakhonratchasimawill be available for travelers with more specific lodging necessities, for instance multiple-bedroom units near aquariums, open balconies with city views, and concierge support to make it easier to enjoy the most outstanding outdoors activities available on golf courses in Nakhonratchasima. Top-rated mountain resort hotels in Nakhonratchasima allow all fast access using public transport to The Lam Takhong River, and restaurant choices with outdoors picks too. It's also possible to reserve top places to stay around Nakhonratchasima Zoo, or hassle-free and low-cost properties around Centennial Park. The infrastructure of Nakhonratchasima is exceptionally excellent for forest villas in Nakhonratchasima, taking walks from your hotel near parks, or vacation rentals nearby excellent nature tour programs in Nakhonratchasima.

Nakhonratchasima is a unique destination for art, culture, and history traveling. People from around the world choose Nakhonratchasima to relish anything and everything this locale can offer, notably top-rated attractions in Nakhonratchasima, hotels near monuments in Nakhonratchasima, and famous historic hotels in Nakhonratchasima. All those coming in book the great many hotels near monuments in Nakhonratchasima, Nakhonratchasima center hotels near monuments, Nakhonratchasima downtown accommodation, historical hotels in Nakhonratchasima, and high-rise hotels with views in Nakhonratchasima near monuments. Dining that is available at the restaurants and bars in Nakhonratchasima comprises of flavors for numerous tastes. The most popular cultural regions in Nakhonratchasima include Prasat Phanom Wan Temple, Nakhonratchasima Provincial Court, and The Monument of Thao Suranari, which together give you a variety of sightseeing experiences and art-based evening activities. Resort and room choices in Nakhonratchasima range from reasonable capsules in Nakhonratchasima to higher-end 5-star luxury hotels near galleries and monuments in Nakhonratchasima. You may also find outstanding serviced rooms in Nakhonratchasima, hostels in Nakhonratchasima, plus more for vacationers of most tastes and budgets. Notably, individual-unit getaway rentals in Nakhonratchasima are available for tourists who have extra esoteric overnight accommodation preferences, for example multi-bedroom units near monuments, spacious balconies with city views, or concierge support to help you find the top cultural activities at historical regions in Nakhonratchasima. Some of the best hotels near famous buildings in Nakhonratchasima give you very easy access with public transport to Prasat Phanom Wan Temple, and food options with open-air possibilities options as well. Additionally, you can discover some of the best properties near Nakhonratchasima Provincial Court, or comfortable places to stay around The Monument of Thao Suranari. The design and roadways of Nakhonratchasima are particularly excellent for museum hotels near Nakhonratchasima, or walking from your hotel room to museums, or hotels near the best museum tour services in Nakhonratchasima.

Nakhonratchasima is a favorite holiday location for tourists seeking urban exploration and shopping. Visitors from around the world check out Nakhonratchasima to sample anything this locale offers, which includes malls, shopping centers, and markets. Guests exploit the countless urban traveler's hotels in Nakhonratchasima, Nakhonratchasima center hotels, Nakhonratchasima downtown accommodation, market hotels in Nakhonratchasima, and high-rise hotels in Nakhonratchasima near shopping areas--as well as the cafes and Nakhonratchasima eateries that serve regional specialties and also other favorites. Food in Nakhonratchasima offers alternatives for a myriad of preferences. Wonderful shopping centers in Nakhonratchasima consist of Nakhonratchasima Square, Wat Bul Night Market, and Food Market, which altogether offer you a range of shopping experiences and urban activities. Lodging choices in Nakhonratchasima cover all bases from affordable capsules in Nakhonratchasima to high quality 5-star luxurious hotels near shopping areas in Nakhonratchasima. You may also come across fine serviced rooms in Nakhonratchasima, hostels in Nakhonratchasima, plus more for travelers of most preferences and budgets. Moreover, single-unit getaway rentals may be choices for visitors who have more particular property requirements, such as multi-bedroom units, spacious terraces with city views, terraces with urban views, or concierge assistance to assist you to discover the right shopping activities. Top-rated hotels near market centers in Nakhonratchasima offer you quick access by public transport to Nakhonratchasima Square, plus food choices with high-end atmosphere also. It's also possible to discover top-rated accommodations around Wat Bul Night Market, or practical places to stay close to Food Market. The map of Nakhonratchasima is certainly ample regarding downtown shopping activities, or simply browsing the shopping malls near hotel zone in Nakhonratchasima.